Doctor acquitted in 'stolen babies' case in Spain

Europe Europe Doctor acquitted in 'stolen babies' case in Spain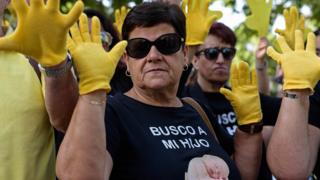 A Madrid court has acquitted a former doctor of stealing newborn babies from their mothers and supplying them to infertile couples.
The court found gynaecologist Eduardo Vela, 85, had committed the crimes but charges were dropped because too much time had elapsed.
He is the first person to go on trial for illegal adoptions that took place during and after the fascist dictatorship of General Franco.
Thousands more cases are suspected.
The Vela case focused on Inés Madrigal, allegedly abuducted in 1969.
After Franco's triumph in Spain's 1936-1939 civil war, many children were removed from families identified by the fascist regime as Republicans and given to families considered more deserving.
Top Stories
Far-right candidate wins first round in Brazil
The success of Jair Bolsonaro and his party marks a seismic shift in the country's politics.
8 October 2018
Your US mid-terms daily digest
8 October 2018
Key climate report urges deep rapid change 8 October 2018
Features
A deepening crisis on the streets of America
Brazil election front-runner: Trump of the Tropics?
Four things to know for the week ahead
'Sleepwalking' with India's guerrillas
Video
'It's my body and I'll do what I want'
The UK firm hoping to take on Google's driverless cars
Video
Four brothers, all models... and Muslim
Video
Still a refugee, 70 years on
Can chocolate tasting unite Trump's America?
Elsewhere on the BBC
Football phrases
15 sayings from around the world

Full article Football phrases Why you can trust BBC News
BBC News Services
On your mobile
On your connected tv
Get news alerts
Contact BBC News
Source: Google News Spain | Netizen 24 Spain