King, queen of Spain to visit San Antonio for Tricentennial celebration


Jury sentences woman to 2 years for stabbing nephew to death following affair
News
Guatemalan volcano not stopping SA mission group
News
'Phipps Strong': New fire truck honors injured SAFD firefighter Brad Phipps
News
Man shot, killed for his shoes on city's East Side
News
Boy, 14, arrested in string of arsons in Castroville
News
SAPD: Mom turns in son after recognizing him from violent Walmart carjacking
News
Technician robbed while filling ATM with cash
News
What to know about car seat safety for big kids
Consumer
Young San Antonio students place in global competition for service idea
Education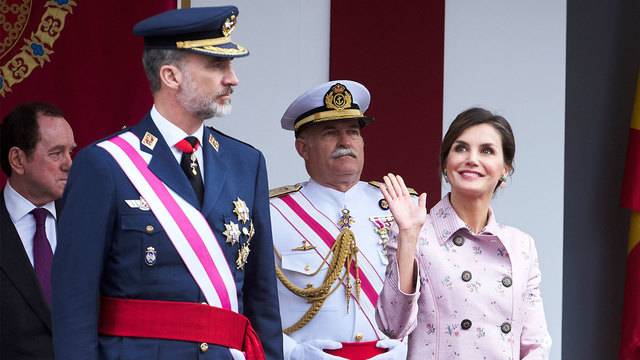 More News Headlines
New app gives San Antonio residents, tourists interactive cultural experience
Free art workshops to create community art project celebrating Tricentennial
KSAT Special: '300 Years o f San Antonio' Part II
SAN ANTONIO - The king and queen of Spain will be in San Antonio June 16-18 as part of the city's Tricentennial celebration.
Their Majesties are visiting San Antonio to commemorate the city's Spanish roots as well as to inaugurate two major art exhibitions, "Designing America: Spain's Imprint in the U.S." and "Spain: 500 Years of Spanish Painting from the Museums of Madrid," according to a press release.
More News Headlines
New app gives San Antonio residents, tourist s interactive cultural experience
Free art workshops to create community art project celebrating Tricentennial
KSAT Special: '300 Years of San Antonio' Part II
"San Antonio is proud to commemorate the special bonds that tie us to Spain. We welcome Their Majesties to visit San Antonio during our tricentennial year to collaborate and build a stronger foundation now and in the future. The everlasting impact of Spain's culture is woven into the fab ric of San Antonio's legacy for generations to come," said Mayor Ron Nuremberg.
King Felipe VI and Queen Letizia will be touring several San Antonio sites, including the Spanish Governor's Palace and the UNESCO World Heritage Mission San Jose.
"As we welcome Their Majesties, the king and queen of Spain, to the community, we are reminded of the unique, shared history that San Antonio and Bexar County have with Spain. From our urban layout to our architecture and cuisine, we can see Spanish influences in our daily lives. We are honored to celebrate our tricentennial year with them and continue to collaborate to provide prosperity for all," said Judge Nelson Wolff.
The visit will also coincide with the inauguration of the San Antonio Museum of Art's new Tricentennial exhibit, "Spain: 500 Years of Spanish Painting from the Museums of Madrid."
Their Majesties we re invited to San Antonio via a hand-delivered letter sent to the Royal Household.
Copyright 2018 by KSAT - All rights reserved.
Get email alerts for local stories and events around the world.
Sign Up '); } else { $("#outbrain-placeholder").replaceWith( '' + '' ); }Source:
Google News Spain
|
Netizen 24 Spain