Turku stabbing: two dead in Finnish city after market square attack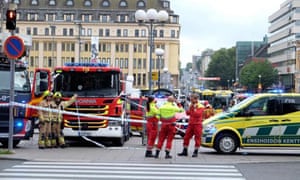 Finland Turku stabbing: two dead in Finnish city after market square attack
Police say it is unclear if incident was related to terrorism, as people warned to stay away from city
Finnish police say two people have died and at least eight people have been injured after a stabbing attack in a market square in the south-western city of Turku.
It was unclear if the incident was related to terrorism, said police, who shot at an d arrested one man after the attack. Contrary to earlier reports, police said they were not looking for other suspects.
Police said the suspect was in custody and being treated in a hospital after officers shot him in the thigh. People were warned to stay away from Turku as security was reinforced nationwide.

At about 4.40pm, south-west Finland police tweeted: "Several people stabbed in central Turku. People are requested to avoid the city centre."

Witness Laura Laine told YLE that she stood approximately 20 metres (65ft) from where the stabbing took place. "We heard that a young woman was screaming. We saw a man on the square and a knife glittered," Laine was quoted as saying. "He was waving it in the air. I understood that he had stabbed someone."
Paula Risikko, the interior minister, said she did not yet know whether the attack was related to terrorism. Finland is traditionally peaceful but the nati onal security intelligence service raised the terrorism threat level in June, saying it had become aware of more serious terrorism-related plans.
In April, an Uzbek man killed four people in neighbouring Sweden by driving a hijacked lorry into a crowd in central Stockholm.
Finland's prime minister, Juha Sipilä, tweeted: "The government is closely following the events in Turku and the ongoing police operation. The government will meet later today."
In 2012, Finland's then-prime minister Jyrki Katainen escaped a knife attack in Turku while campaigning for municipal elections. The man who approached him carrying a knife was found to have mental health issues and no charges were brought against him.
A former capital of Finland, Turku remains a hub for business and culture.
Reuters and Agence France-Presse contributed to this report
Topics
Share on Facebook
Share on Twitter
Share via Email
Share on LinkedIn
Share on Pinterest
Share on Google+
Share on WhatsApp
Share on Messenger
Source:
Google News