Finland police shoot man after multiple stabbings in city of Turku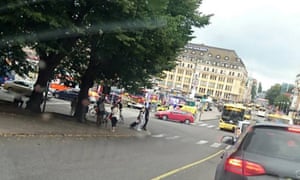 Finland Finland police shoot man after multiple stabbings in city of Turku
Man arrested as people advised to stay away from city centre and local media report at least one person dead

Finnish police have shot and arrested a man who stabbed several people in a market square in the south-west city of Turku.
At least one person was see n lying on the ground at Turku's Puutori market square and others were reported to be hurt, according to YLE Uutiset, the main news programme of Finland's public broadcaster.

The Turun Sanomat newspaper reported that at least one person was killed in the attack on Friday and that police were inspecting departing trains and buses.
There were four or five ambulances near the city's main square, the paper reported a witness as saying.
Police said several people had been stabbed and asked the public to avoid the area. A suspected assailant has been shot in the leg and detained.

Finnish police have reinforced security at Helsinki airport and train stations after the stabbings.

At about 4:40 pm, south-west Finland police tweeted: "Several people stabbed in central Turku. People are requested to avoid the city centre."

Finland's prime minister, Juha Sipilä, tweeted: "The government is closely following the events in Turku and the ongoing police operation. The government will meet later today."
In 2012, Finland's then-prime minister Jyrki Katainen escaped a knife attack in Turku while campaigning for municipal elections.
The man who approached him carrying a knife was found to be psychologically disturbed and no charges were brought against him.
A former capital of Finland, Turku remains a hub for business and culture.
Topics
Share on Facebook
Share on Twitter
Share via Email
Share on LinkedIn
Share on Pinterest
Share on Google+
Share on WhatsApp
Share on Messenger
Source:
Google News